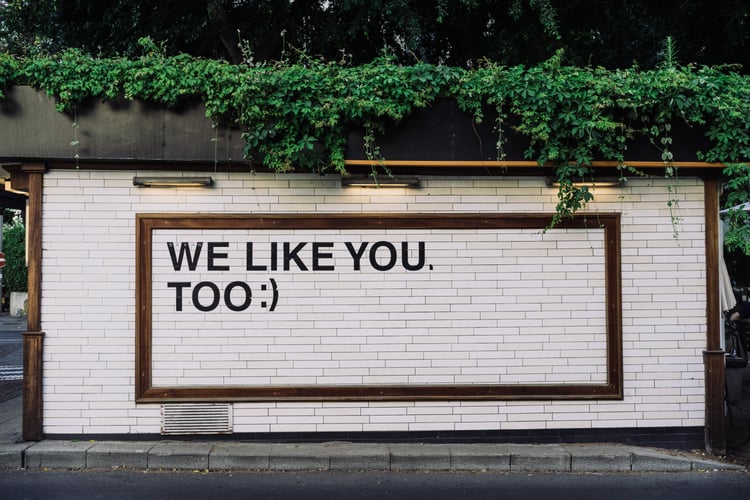 Social media is about interaction and engagement with your audience. Social media not only allows your audience to interact with your brand quickly, but it allows your brand to connect with your followers and future audience. The information you share is available at your consumers' fingertips, and faster than ever before.
Demographics of Social Media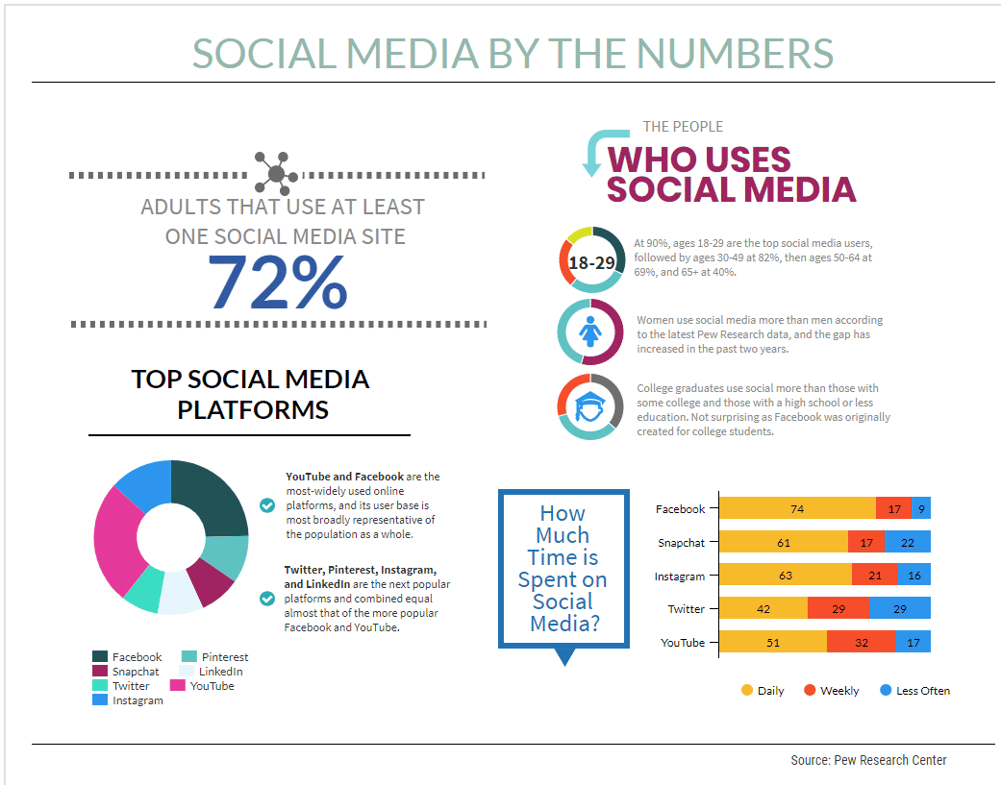 ---
Social Media 101
Social media has transformed the way consumers communicate with brands. It has created a two-way communication channel for you to engage and learn from your audience. By interacting and connecting on social media platforms, you can improve brand perception, learn what your customers really value and where they feel you need to make improvements, and referrals. Additionally, it allows prospective and existing customers to feel heard and to become invested in your brand, story and community.
There are 3.48 billion people using social media in 2019 according to Hootsuite. This results in the average American spending two hours per day (or 14 hours per week) on social media. That is way too massive of an audience for you to ignore.
Social media provides many benefits beyond the access to a mass audience that make it an attractive and important component of your marketing strategy.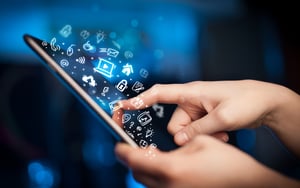 Social media platforms allow you to create highly targeted audiences for varying initiatives. You can select age, sex, interest, socioeconomic and many other fields that help get your content and ads in front of the right people. Digital media, in general, has enhanced the opportunity for collecting and analyzing data like nothing before. You have a plethora of information at your fingertips that you can slice and dice any way you want. You can monitor and analyze information hourly if you prefer. This directly impacts your ROI.
Thanks to metrics, you can quickly adapt your program and efforts. You're no longer forced to wait until the end of a campaign or year to see if it was successful. By analyzing metrics, you can quickly make corrections if your efforts aren't working. The bottom line is you can't get the quality or quantity of information to an audience like you can with social media. Yes, much of this requires strategy and effort, but executed correctly you just won't beat the type or amount of information you can provide.

---
Social Media Planning: Put it on the Calendar!
Social media should be an important part of your overall marketing strategy and fit seamlessly in with your other efforts. Posting 2-5 times a week may sound like a lofty task, but it's pretty simple once you add a little organization to your strategy. We've developed a few tips to make social media planning not just another to-do, but an easy to integrate tool for your business marketing.
First, get organized! What this means is you need to look ahead and decide which initiatives, events, products, etc. you'll be focusing on for the next two months (even further if you're able to) and write those topics down. While there's all sorts of apps and programs out there to help you plan out your posts, we feel it's hard to beat a good calendar system. At this brainstorming stage, it's helpful to really visualize what's being posted on which day (and on which platforms) so you can align your content with your business goals and events. Google Calendar is a great option, but really any shareable calendar will do. The important thing is that it's accessible to your whole team, ensuring everyone is on same page about what's supposed to be posted and when.
Second, plan ahead! While there are certainly occasions where timely information or happenings pop up that need to be posted right away, most of your content can be scheduled out in advance. The biggest advantage here is that social media doesn't become something you need to check off your to-do list every day. Rather, you can schedule your posts on a weekly or even monthly basis, using tools like Creator Studio for Facebook and Instagram, or Hootsuite or HubSpot. This allows you to concept once for an extended time period (again, we recommend two months out) rather than scramble for content every single day. An important piece to keep in mind here is that you want to be sure it's quality content; not just content for the sake of filling out the calendar.
Finally, check in and update! What we love about the calendar system is that it's easy to see the big picture, say for a month-long period, and then update throughout the year. While automated social media management platforms take a lot of the daily scheduling "work" out of it for you, it's important to remember that technology isn't always fail proof. Be sure to check all your social media platforms on a regular basis to ensure what was scheduled to post actually did and that it did so correctly. Lastly, update regularly; ensuring you're always at least a month or two ahead. Trust us, you'll eliminate a lot of stress!
As a tried and true organization method, a calendar offers many benefits that will simplify social media planning. Take the guesswork out and ditch the last-minute scramble for content by getting organized and planning ahead. Also, don't forget to check in and update your calendar! Not sure how to start, check out our calendar template that's easily customizable to your business and needs!
Now you have an idea of how often to post and how to stay organized and thoughtful in your social media strategy, but how do you determine WHAT to post? First - as with most marketing efforts - you must think of your audience and what is going to engage them on the social platforms they're on!
↓ Click the Photo to Download the Social Media E-book ↓
Social Media Engagement
Why should I Care About Social Media Engagement?
Today, people are spending an average of 2 hours and 22 minutes per day on social networking and messaging platforms. With this communication channel at their fingertips, consumers expect businesses to be present and respond quickly on social media. Whether you like it or not, your presence engagement, existing community, and response time affect your consumers' perceptions of your brand and business. If that's not enough, here are a few more reasons engagement on social media matters:
Engagement Affects the Visibility of Your Content
Social media platforms use propriety algorithms to determine what and how much of your content is served to other users. Engagement on previous content influences this algorithm. So, the more engagement you create, the more users will see your content.
Engagement Helps Tell You How Well Your Audience is Responding to Your Content
Who wants to spend time creating content that no one is interested in? You can review and evaluate engagement to determine what topics and types of content your audience values. Be sure you're reviewing the specific comments and feedback, so you know if they are positively or negatively engaging.
Engagement expands Your Reach and Increases Brand Awareness
Much of social media's purpose is to expand your reach and increase brand awareness. This pushes interested, prospective customers into your sales funnel. From a numbers perspective alone, the more people at the top of the funnel, the more that will move through to the bottom, which means purchases and conversions.
5 Ideas to Increase Engagement
Partnerships
Find another brand or organization that is targeting the same audience as yours and reach out to them about partnering and cross promotions. For example, if you're selling pencils, reach out to a brand selling paper. Showcase your products in combination as well as independently as advocates for each other. As you see the success, feel free to consider creating a larger partnership like businesses selling staples and scissors. Just be very clear on the terms and expectations of each entity that's part of the partnership.
Employees
Ask employees to participate in and support your business on social media. Remind them to follow your pages and engage and share content that speaks to them. Consider creating an internal contest for employees who comment or share more often. If your employees have buy-in to your brand, this will be easy. However, if your company morale is low; this can backfire. You'll likely experience cynicism and negativity.
Incentives
Hold a contest, offer a discount, or create a give-away in trade for some sort of action. Consider your goals as you determine what type of incentive you'll offer. For example, if the primary purpose of your social media efforts is to expand brand awareness, you'll want to increase engagement, so your content and brand reach more people. If the offer is good, the opportunity is endless.
Quality Content
Perhaps the most effective tool to increase engagement, but also the hardest to execute effectively, is creating quality content. If you create consistent and valuable content, your potential and existing audience will organically and authentically engage. You need to ensure your content speaks to your audience and that you're tracking what type of content they like and engage with most so you can give them more of what they want. Don't get lost in quantity over quality on this one.
Influencers & Advocates
Reach out to some of your brand advocates or influencers in your industry. These groups already have communities, either big or small, that trust and care what they have to say. Ask them to talk about your brand. You can give them specific talking points or offer them products or services to try and then showcase. Brand advocates will likely be on board without receiving some kind or revenue or benefit. Influencers are more likely to want a product, service or fee.
Keep reading to learn more about the various types of influences and why you should consider utilizing them in your social media strategy.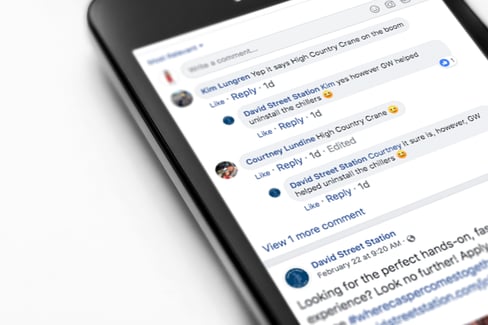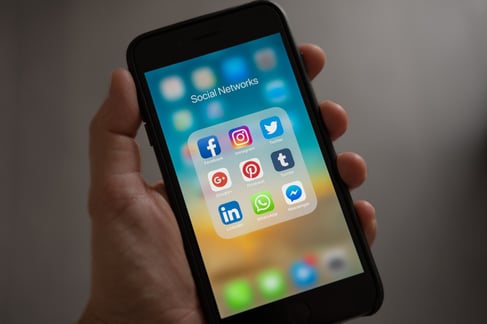 The Importance of Influencers in Social Media
If you're on social media these days, Instagram and YouTube in particular, you've likely scrolled over or clicked on something being showcased by an influencer. Influencing in the digital world is not a new concept but the it has grown substantially in the last few years. When the right influencer is paired with the right product or service, brand exposure can be propelled forward at an impressive speed. The collaborative relationship can help you reach and build trust with your audience(s) and as mentioned above, push engagement.
So, who are these influencers!? Well, they vary! Let's walk through some examples:
Celebrities: Movie stars, musicians, athletes, models, and more! We just recently saw a Hello Fresh ad with Jessica Alba and her family. Total influencer! Ever heard of Kendall Jenner? The news has reported that she was paid $250,000 for posting one single Instagram photo of her at the very disastrous Fyre Festival in 2017. The event was perhaps a catastrophe, but her post got an impressive number of views, sparking big interest in the festival ticket sales.
Reality TV Stars: Familiar with the FabFitFun? This company loves using reality tv stars to promote their subscription boxes. Have you seen your favorite ex-Bachelorette lately? Many of them are sharing posts right now about this product. People connect with reality tv stars because they were once "like us," normal people who shot up the fame charts after staring in your favorite reality tv show. They feel relatable to many… and if they like these products, why shouldn't we?!
Journalist/Bloggers/Vloggers: These influencers write and post regular content and utilize social media to promote such. They'll cover stories or often write reviews about certain products or services. One popular blogger, Chiara Ferragni, focuses on fashion and is a brand ambassador for Pantene. Food bloggers and journalists can make or break restaurants. Having them as an influencer and on your side could take your establishment to the next level.
Photographers: Camera companies like Canon and Nikon have a plethora of these to choose from! These influencers have incredibly beautiful, visual content and are perfect for promoting photography industries. If a photo speaks a thousand words, these ones sell millions of cameras and equipment!
Activists and Thought-Leaders: These influencers are driven by a social or political cause with a goal to elicit positive impact.. Some examples include powerhouses like Brandon Stanton, Malala Yousafzai, Brené Brown, and Mark Zuckerberg.
Social Media Sensations: These individuals share glimpses into their everyday lives and through some way or another have built up a massive audience simply based on their social media profile alone. Check out influencers like Alissa Violet and Josh Ostrovsky (Fat Jew).
Micro-Influencers: These influencers generally have around 100,000+/- followers that fall into a pretty specific niche market. One example would be Diane Sanfilippo, she's an author and Paleo-ish foodie who also taps into the clean living and beauty realms. Her followers have similar lifestyle interests, which creates strong loyalty to her account and content.
Nano-Influencers: These are the front-line people you or your business are closest to. Perhaps they are regular everyday users of your product or service. They are friends, employees, or live in your community. Smaller but powerful, their content is often more trusted. Macy's is an example of a prominent company who utilizes their employees to create social media content and influence audiences.
One thing most of these influencers typically have in common is that they generally have a very large OR specific niche following on social media and are considered experts or role models by their followers. Nano-influencers are the exception here, they fall into their own category. However, across the board, successful influencers create content that is of higher quality, both in visual and written forms.
So why should you consider utilizing influencers? Exposure, credibility, authenticity, reach… the list goes on. However, it's important to o your research and find the right influencer for your business. Determine how you'll compensate them and what content you'd like them to share. You can engage influencers in a variety of ways: pay them a fee or provide them your products or services in exchange for them influencing for you. Some influencers, like journalists and nano-influencers, may share content about you regularly simply because they are fans (same with Advocates mentioned above). Whatever route you go, consider utilizing influencers on your social media platform. The right one can help drive traffic and sales to your business.
Speaking of driving traffic. You might be wondering how you can stand out in the ever-crowded world of social media. Well friends, keep reading for ideas to boost your efforts!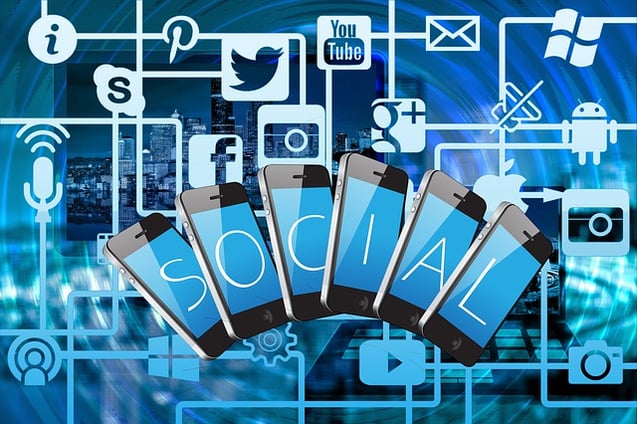 Using Ads in Social Media
As we've covered, utilizing social media platforms is a free and easy way to engage your customers and target your audience. But like any other form of marketing, a paid ad can do so much more for your business, plus they are very affordable!
There are of course different types of ads you can purchase on each platform. Depending on the platform, you may find that a general ad for your page is the most effective. This will put your business in the newsfeed of your target audience, regardless if they follow you or not. Another way to get your content in front of your desired audience is to target a specific post to that demographic. Whether it be a service you provide, and upcoming event, or valuable information about your industry, this type of ad can be very specific for a very specific audience to which your content will be most valuable.
In contrast to print ads, social media ads can cost much less. In general, the more money you spend the more efficient the algorithm will be at spending your money which will then increase your performance. This is particularly true with Facebook. That being said, $75 can go a long way if you're doing the right targeting on the right kind of content. Most platforms do give you quite a bit of control – allowing you to choose specific dates your ads will run, the dollar amount you wish to spend, who will see your ad and more. For example, most platforms allow you to set a max budget for your ad, giving you control how much is spent and for how long the ad will run. This type of control is great, especially when it comes to upcoming events or special promotions your company is running. Once your ad account is set up, there is no middleman to slow the process down. You can simply put your ad up when you are ready, and it is published immediately or on a date of your choosing.
While social media is a great tool to reach your audience, organic growth and reach can only go so far. We recommend that you decide on a monthly budget for social media ads when in the planning stages. Once your budget is set, put each post you want to promote with an ad in your social media planning calendar, so you stay organized. It's also important to remember, there are various types of ads for each platform. Some ads you can create from scratch to simply promote your actual social page. Some ads can be set to direct people to your website or a specific landing page. Other ads "boost" views of a post or content piece. Knowing what you want to accomplish and understanding the various ad options before spending your money is important. Take a little time to understand the platform you wish to use, the ad options available and how you can target your specific audience.
Delineating which content has an ad behind will also help you measure performance and engagement. Which leads us to one of the most valuable pieces of social media marketing—metrics!
---
The Best Social Media Metrics to Watch
In our personal lives we are always striving for quality over quantity. Engaging in meaningful relationships vs a lot of surface ones is more fulfilling. The same goes with our social media metrics. You may have a ton of followers but are they the right followers? Do they reflect your business goals and or convert into sales? It is important to consider which metrics are vanity and which are quality metrics. Let's break down both types.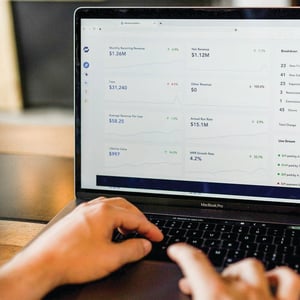 Vanity metrics are exactly that, they are impressive to a viewer but may only be surface level. They may make your business look good, but quality metrics are what you should use when you are making business decisions. It's not to say they aren't important, as appearance is. But it's wort Quality metrics are the numbers that tell you how many people your post reached, how they engaged with it and more! These metrics, on the surface, may not seem as exciting but the data helps you truly understand your social media performance and make informed decisions.
The kind of quality metrics you should focus on include reach, engagement, impressions, conversions and growth. Engagement metrics, for example, track how much of your audience, how often and in what ways they're interacting with your account (post clicks, likes, shares and comments.) It helps you understand how effectively you're creating interactions with your customers and they're forming relationships with your brand in the social stream. There's nothing wrong with taking pride in your appearance, but vanity as evidence of growth rarely has a place within a business or projections. Quality metrics help you make a decision, add context for what your business is doing, what is working and what is not. The bottom line: pay attention to the right metrics on social media! They will help you adjust your strategy, make educated goals and make better (and profitable) marketing decisions.
---
Hot Happenings in Social Media
The social media landscape is ever changing! Just when you think you've mastered the newest feature or navigated another update, you're hit with "the next big thing" to try. Consumer are always evolving, which means how your reach them and, more importantly, engage with them evolves as well.
As a business owner it's important to stay up to date on the "hot happenings" in social media so you're continually in front of your audience and interacting in a way they connect with. We've looked into our crystal ball and discovered four trends that businesses must pay attention to and understand to stay relevant on social media as we look to 2020.
Stories! Yes, we know these disappearing posts, available on Facebook and Instagram (+ the OG Snapchat) are not new BUT they are certainly becoming more popular with social media users. According to TechCrunch, the use of social media Stories has grown 842% since 2016, with no sign of stopping. Incorporating Stories into your social media strategy is a smart move, especially for brands wanting to make a more personal, authentic connection with their audience. Stories lack the heavy editing capabilities of a regular post and because they typically disappear in 24 hours, consumers receive the most up to date, relevant information from brands. So, keep it real and give consumers what they want: authentic, timely content that offers value.
Video. 2019 was a big year for video and we're not seeing that going away any time soon. Forbes predicted that in 2019 online video traffic will account for 80% of all consumer Internet traffic. Which makes perfect sense when you consider how easy it is to get lost down a You-Tube rabbit hole. According to HubSpot, people skim or daydream less with video than written content or even podcasts. Think about it, would you rather read about or listen to how a new product will change your life or see it in action? As the common saying goes, seeing is believing! However, you need to make sure your video content is engaging. Don't just create an infomercial—tell a good story and aim to connect to your audience by fulfilling a need they have in their life or reach them on an emotional level.
Influencers. If you've stuck with us thus far, you know all about influencers and their importance on various platforms. Positive word of mouth from a person a lot of people admire, and trust is marketing gold! Do some research and determine who has a good reputation in your community, a lot of social capital, or simply has a large following and some pull in your market. Ask them to speak on your behalf or let them try your product/service and report to their followers. Just make sure they feel favorably about your brand before you ask them to share with the world 😊
Social Media Detox. More and more people are choosing to take a break from social media. Whether temporarily or permanently, the social media purge it's something you should be paying attention to; especially as it relates to your metrics and budget. It's also important that you diversify you marketing channels and not put all your focus on social media. Instead, ensure that enough budget and resource is still being given to other channels, including email marketing and search engine marketing. Even more important, be purposeful and meaningful with the social media presence you do have. You don't want to overload your audience or worse offer little more than cool pictures or funny quotes. Make sure you're delivering content that has a positive and memorable impact on your audience and provides value for their lives, so that when they do come back from their social media break, you're top of mind.
Successful social media marketing is all about understanding your audience; how they use a certain platform, when/how often etc. and what metrics to pay attention to. Staying up to date on the "hot happenings" on social will ensure you're not left in the dust, but rather meeting them where they are and engaging them in an impactful way.
Feeling overwhelmed with social media? Have more questions or need help getting your program started? Contact us at hello@lumstudio.com.